Get fit, Stay fit,
Have fun
The New Zealand Government will increase the COVID-19 alert level at midday Wednesday 12 August to Level 3, for Auckland.
Once the New Zealand Government raises the COVID-19 Alert system to level 3 and beyond, government regulations state that all squash clubs (as non-essential businesses where public congregate) must close effective immediately.
Welcome to Panmure Squash Club
Club Night
Club night will re-start this Thursday (9th) at 6pm. There will be a graded player supervising and all learners and beginners are encouraged to be here. Non-members are welcome for three evenings before they will need to become a member.
ACCESS ALERT
Due to ongoing roadworks the front entrance to the club at 46 Lagoon Drive is closed until further notice.
 Please use the back entrance located at the back right of the rear car park on Domain Road
(Please see red area on adjacent map). Please note that Domain Road can only be accessed from the Roundabout as the far end is now permanently blocked for traffic.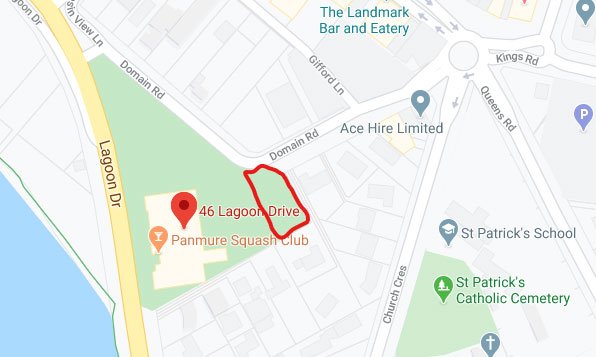 Pay 2 Play
Not a  member? Not a problem.  You can still book a court and play squash on a prepaid casual basis.
Membership
We offer a range of memberships from juniors to adults, families to corporate and special introductory offers.
Venue Hire
We can accommodate most requirements for your function whether it's large or small.
Squash Coaching
Whether you are a social or a competitive graded player, coaching is a fun and easy way to improve your game.
Squash Resources
Useful links to online resources including grading lists, competitions, events and anything else you might need to stay up to date.
Regular events
We hold regular events at the club including:
Juniors
Club Nights
Box League
Fun Tournaments
We also encourage and support our members in participating in Interclub and Nattional events.